Discussion Starter
•
#1
•
Ok guys. I've collected this from both Dad and Latigo's emails, written communications and posted answers. Not all of it is in sequence because of how I collected it, but its all here.
Not one single round through any rifle in the armoury goes downrange without first being impact coated. One rifle with Moly and all of the others, handguns included with hBN.
---------------------------------------------------------------
Your bore is going to make a difference right out of the gate. Both Moly and hBN have specific applications. Lab Grade Moly is typically 99.8% pure with a 1 to 3 micron size. hBN (far more preferrable in
most
bores) is typically negative 5 micron or smaller.
First, hBN. The patent shows it as being most effective on a standard steel bore, far less effective on a polished Stainless Steel bore and has no effect on a 17-4 S/S Electro Polished bore, this because the negative micron particles cannot ingrain themselves into the surface and create the required ceramic protective coating.
This is the Patent. There are a lot of "between the lines" analysis contained therein and I suggest you ask questions about any aspect you don't understand. The primary intent has nothing whatsoever to do with accuracy, and there would likely be no change in group size in your particular rifle, but there certainly can be. The objective is to double or even triple barrel life, and for us that is critical. Barrels for some of these Swiss rifles are virtually impossible to obtain other than with an inordinate amount of expenditure. This is the nature of the zfk55.
http://www.patentstorm.us/patents/7197986/description.html
hBN is not typically susceptible to moisture and thus does not allow corrosion to affect the lands/grooves of the bore. This is a rather large advantage over Moly in certain scenarios.
The process is simple. If you've ever fired a copper jacketed projectile in your rifle, you must use a water based copper removal specific such as Foam Wipe Out. Whatever you use, make sure its water based and ammonia free. Once you've borescoped and found the bore to be
completely copper free
, if the bore is .30 caliber, roll a .270 (or whatever, but a bit smaller diameter than your bore) caliber
clean
swab in a mixture of 100% Denatured Alcohol and hBN. Use a small, sealable pill bottle, glass (preferrable) or plastic to mix and store the slurry. The ratio should replicate a slurry of the consistency of milk. Run it back and forth through the bore and let stand.
Within half an hour I fire an impact coated projectile through the bore and that's it. The bore is effectively ceramic coated.
Everyone has a methodology and most involve pill bottles in the tumbler suspended in media. I don't. I use 16oz plastic jars with screw on lids, and not inside the tumbler in in the media. I made a secondary lid for the tumbler/vibrator on a CNC. Its 1/2" thick Sintra with a 1/4" deep channel cut into the bottom to fit over the inside and outside edge of the tumbler. A 5/16" hole is drilled in the dead center to acommodate the shaft and wing-nut. All four jars are spaced evenly around the shaft on top of the lid. The tumbler is empty.
All four jars are filled to the 1/3rd mark with impact coated .177 steel bBBs. The BBs must be washed in Dawn or cleaned with a Sonic Vibrator and denatured alcohol. Add a nominal 1.5gr of hBN and vibrate for three hours.
Place 50 .30 caliber (or whatever, untouched by human hands) clean projectiles in each jar, add a nominal .5gr (this amount is arbitrary) of hBN and vibrate for three hours. The jars on top impact coat the projectiles easily 4 times harder and faster than in a pill bottle suspended inside the tumbler in media. Once the lids are screwed down tight, use a 1/2" wide strip of plastic tape around the area between the lid and the jar. Negative 5 micron hBN is so fine it can potentially find it's way through the threads.
Use a large slotted spoon to remove the impact coated projectiles from the jars and tumble then in a Terrycloth towel.
We begin by stripping the chambers, throats and bore with Wipe Out. Its an ammonia free, water based bore cleaner that removes literally 100% of everything. Carbon, copper, any kind of fouling including Moly. We leave the Foam Type Wipe Out in the bore and throat for about two hours then dry swab everything. We do a
follow-up inspection
for any copper residue with a Hawekeye Borescope. A complete, 100% copper free bore is essential.
I wash the bullets in very hot, soapy water with Dawn. I use a bowl with a plastic strainer that just fits in it. Once washed, I thorougly rinse with hot water, not cold. From that point I handle the projectiles as little as possible until they're in the impact jars and then only with disposable latex gloves. Assuming you've already treated the .177 steel BBs, you can put 50 .30 caliber or 100 smaller caliber bullets in each jar.
Mike, we've changed our methodology just a bit since you read the last email. We now place a thin layer of dense foam in the bottom of the Dillon. the jars are sealed where the top threads down onto the jar with friction plastic electrical tape to keep any hBN from leaking out. We place the jars on their sides and pack them in with chunks of foam. We place enough foam on top of them so that when the vibrator lid is screwed down they're trapped tightly. This keeps everything horizontal and the bullets stay on the horizontal position. Works much better and you won't need a specialty lid for your Dillon. The attatched pics are of one of our smaller vibrators with two of the older jars we original used. We now use the new jars in the larger Dillon, but they do show how the jars are packed and kept horizontal.
With hBN, heat is good but not entirely necessary. We use heat in the form of a Halogen body shop lamp. Placement of the lamp is critical for the well-being of your tumbler. Too close and you'll soften the plastic. Vibrate them for 3 hours. Remove them with a slotted spoon and tumble them in a Terry towel a few times. They'll come out perfect. This horizontal impact coating with steel BBs in a vibrator with no media makes them hit hard and fast, and that's the secret to perfect coating. Even small tipped bullets come out perfectly with no damage to the plastic tips at all.
------------------------------------------------------------
Pictures
This is the .177 steel BB preparation.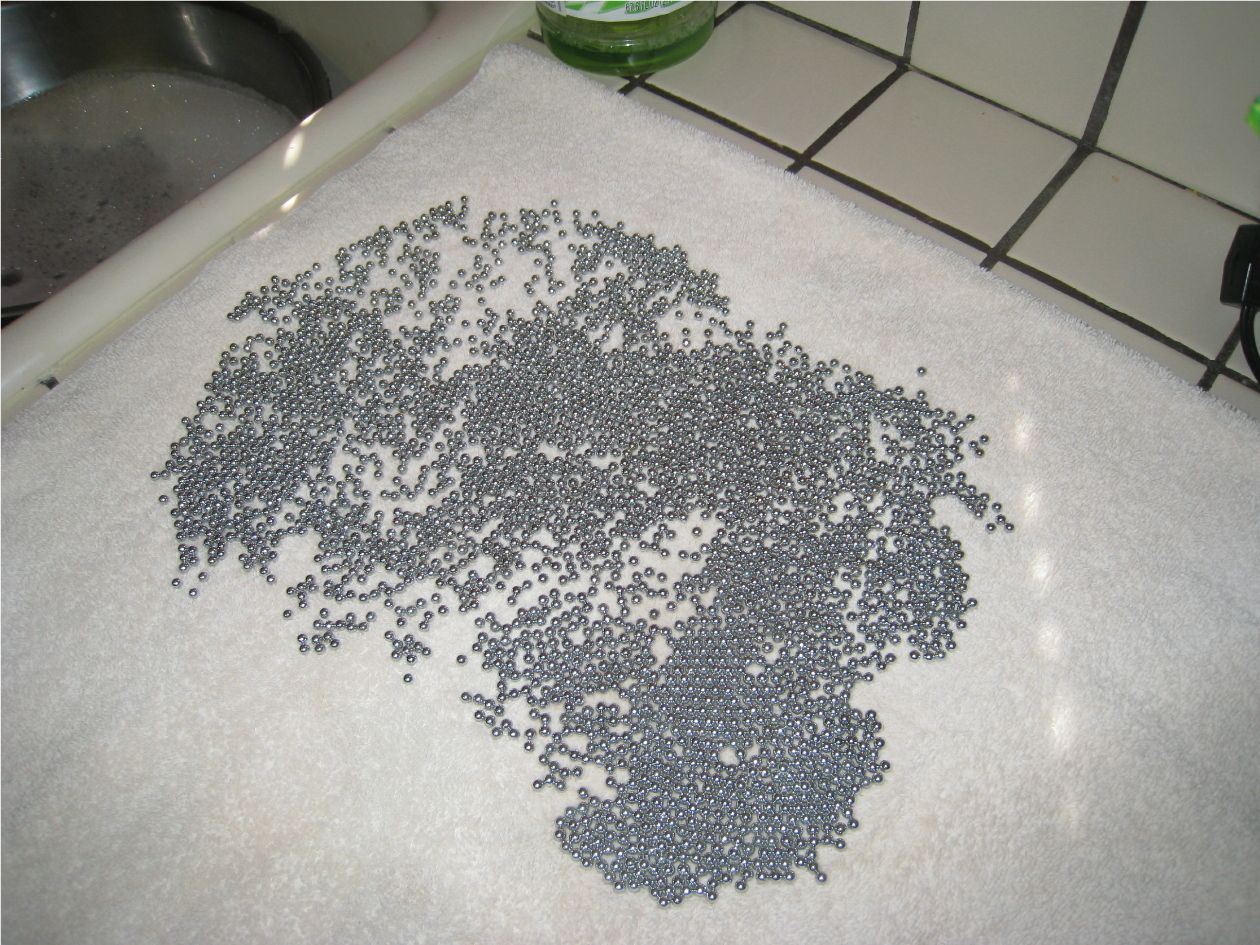 And bullets.
Original Vibrator setup, and they still use this one too. We do an awful lot of bullets here. Sometimes thney keep media in the tumbler so they can clean brass while impact coating.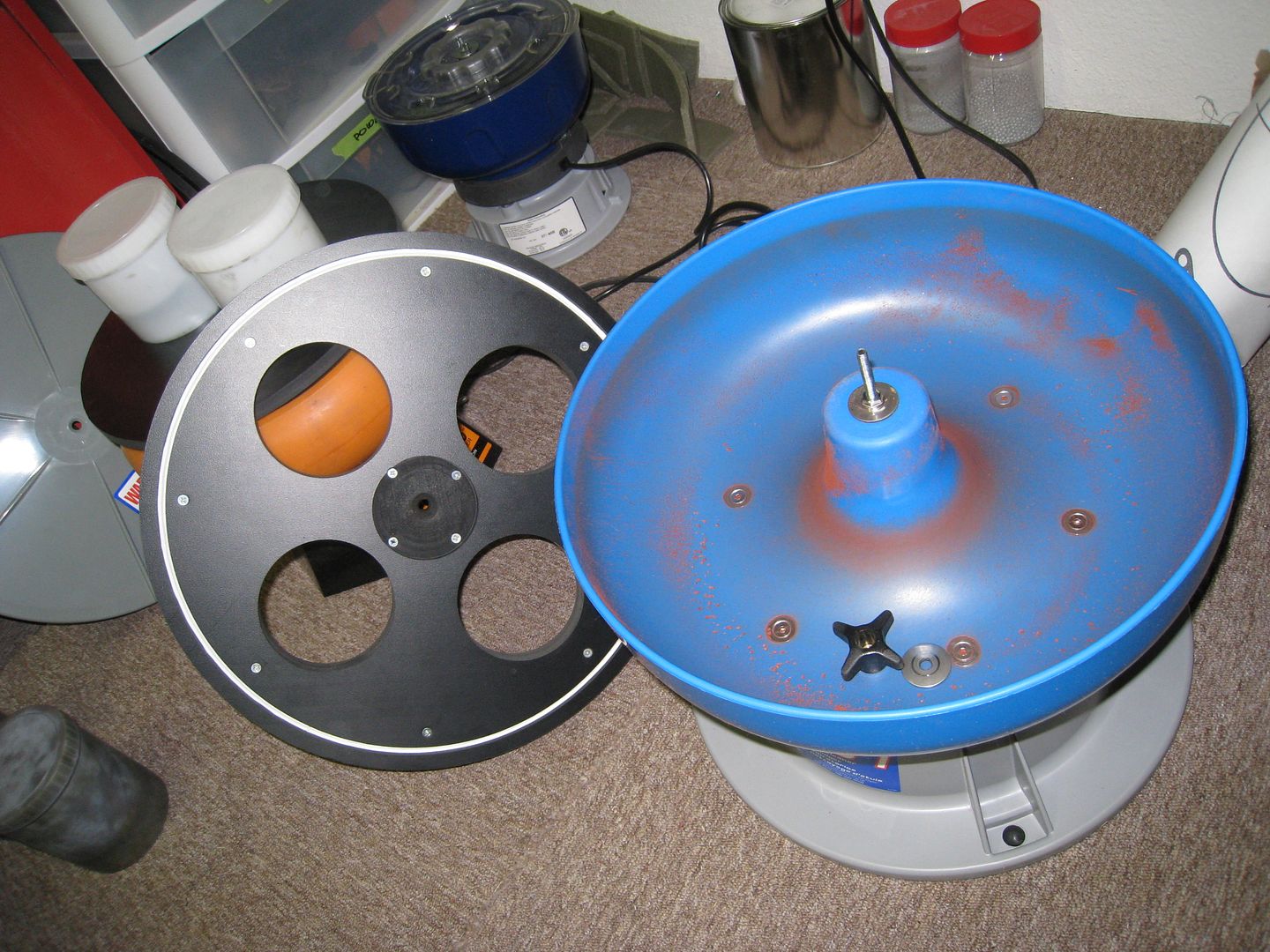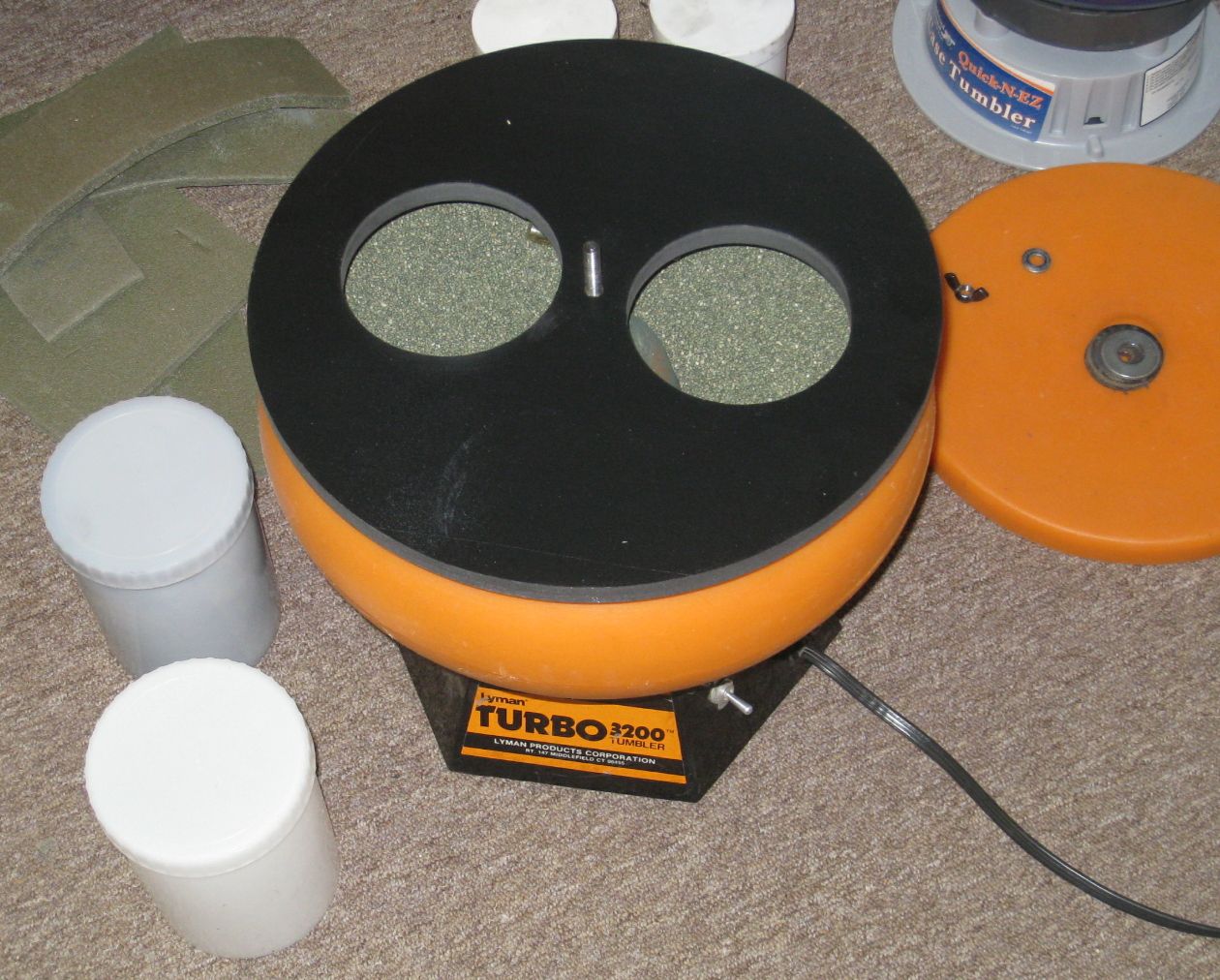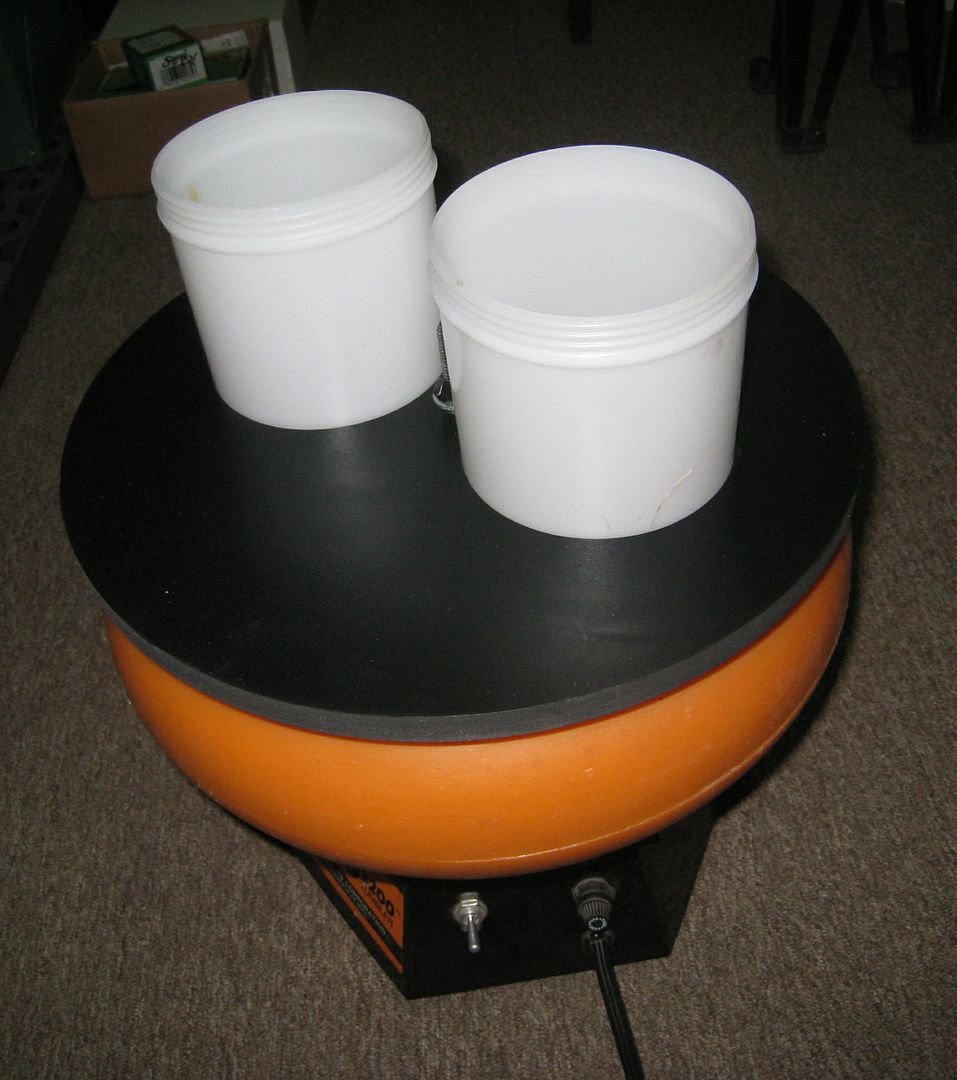 Newest method.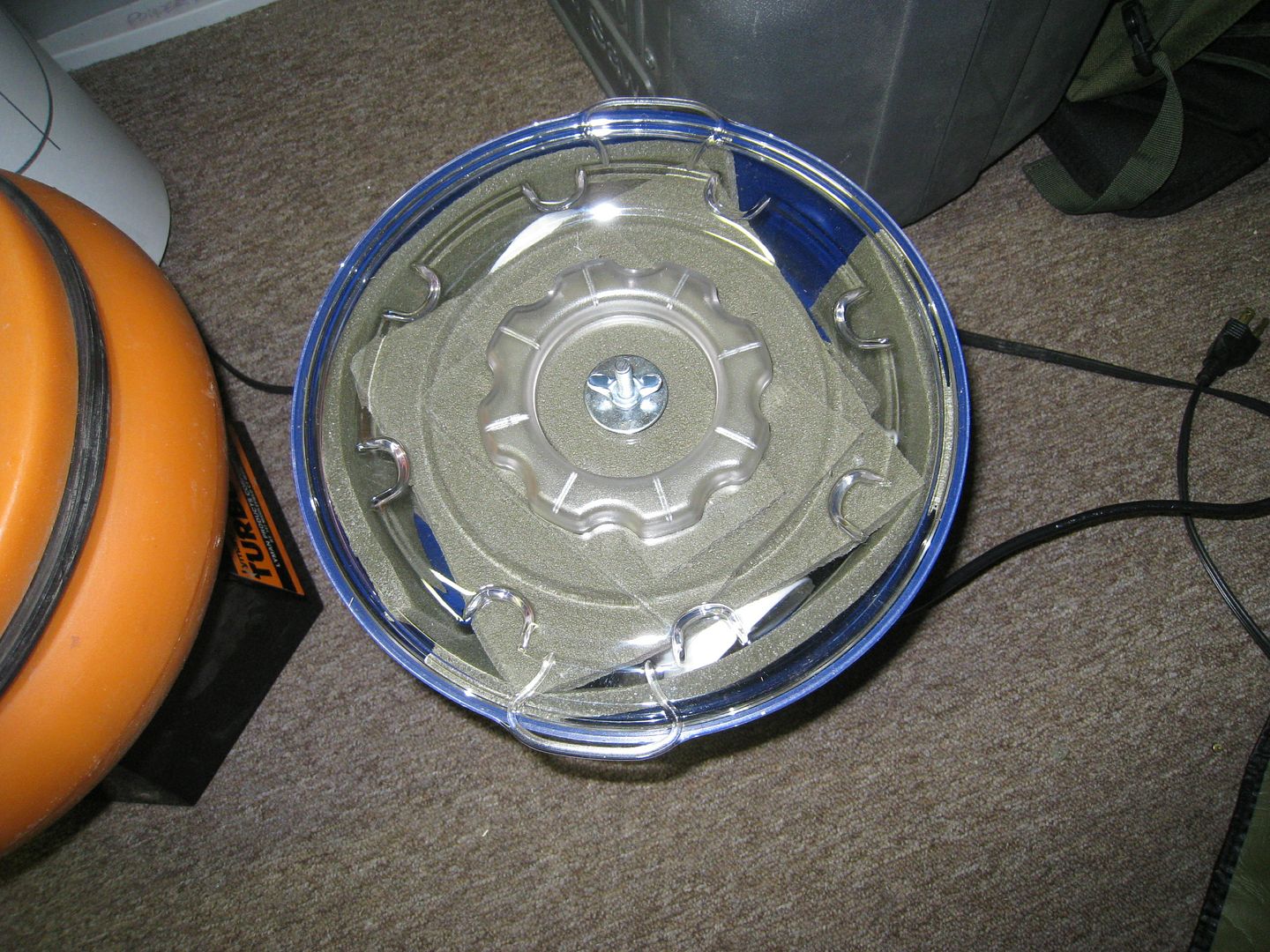 ------------------------------------------------------
More pics to come.