Got the Banshee in and put a Sparc-AR, CMC trigger, short-throw ambi safety and magpul B.A.D. lever on it; all of which I had laying around. I have an MRO that I bought used and was going to use on it, but it has battery-life issues, only lasting a few hundred hours instead of the thousands it should. I may see if trijicon will warranty repair it even though I bought it used.
But really like the stupid thing so far. The brace is their 'micro' brace, which is just too short for me & my sons, so plan to put a normal length buffer tube on it to give it another inch or so of 'pull' length. But even with all that, still am impressed with it. The radial-delay blowback does reduce recoil, so it's about the same as the much heavier Camp-9 carbine even though it's a whole lot smaller & lighter.
This was before adding the BAD lever, trigger & safety. Just put the red dot, wml light & flashcan on it and function-tested it before taking it on our short Houston trip a week or so ago: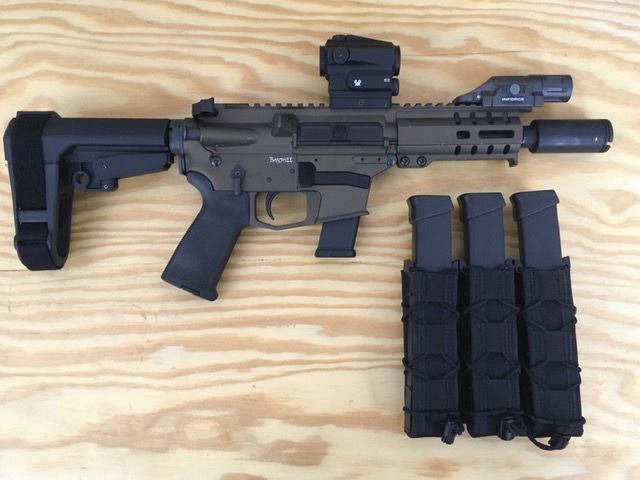 Only thing I've bought specifically for it is the mag carrier in the pic. All the other crap was just laying around, either from previous guns or picked up on sale in the past. The Sparc-AR used to be on my .22 rifle, the flashcan is from the 9mm AR pistol I sold, the WML used to be on my main AR but had been replaced with a brighter one, etc.
I may pick up a couple of the glock 24-round magazines; haven't decided yet. I don't really like the long 33-rounders, but would be nice to have more than the 15 rounds of the G19 magazines.