Discussion Starter
·
#1
·
A while back when thinking about firming up designs for my home range, I debated how to best handle the chore of brass retrieval. I load a lot of my handgun ammo and cast a fair percentage of my own handgun bullets, so recovering the brass is a real factor, especially as my shooting is primarily on a non-manicured area. Not much more than cleared pasture land, frankly.
I'm no longer young & skinny, and shimmying around, up & down in the grass to retrieve individual pieces of spent brass thrown from an auto is a deal-killer for me. I'm in this for my personal enjoyment at this point, and that prospect is simply unacceptable on any kind of scale beyond just a handful of rounds. I immediately thought of focusing more on revolvers, as I enjoy them about as much as autos anyway, but that didn't really solve the problem. Since I largely shoot on a timer at plates, any more than six rounds at a time meant brass dumped loose on the ground at reload. Rimfire came to mind as it's cheap, I shoot a fair amount of it anyway, and brass retrieval is inherently a non-issue; but I really wanted a 'real-caliber' solution as well.
Finally came up with a solution that should be both fun and practical. I decided a revolver that uses moon clips would allow reloads that leave only a single, larger item to retrieve afterward; all the brass being held together by the moon clip. After looking into the concept, I decided on 9mm instead of 45acp. That led to looking at the available 9mm options from S&W, Taurus, Chiappa, Charter, and Ruger. All that to say, back in December I had our lgs order me a smith 986. I've never owned a Performance Center gun before and my hope is that this may turn into my most-used revolver, hopefully for years to come. I've never even owned a Pro Series, much less a full-on Performance Center gun. Am hugely looking forward to seeing if they're really as good as they're made out to be. My most-used medium revolver for a number of years now has been a 681 with a Wolff spring kit and decent trigger job. It's pretty nice, but am really looking forward to find out if the PC fuss and hype are justified.
I finally got to shoot the silly thing for the first time this weekend. Not a ton, but managed to play with it a little at the pond before the snow started on Saturday; probably 70-80 rounds is all.
Very happy with it, which is a good thing since it's the most expensive revolver I've owned. But cost-whining aside, I think I'm going to like it a lot. I did change out the grips for some hogues, the closest currently-made thing I could find to the old 'boot grips' from craig spegel and uncle mike's: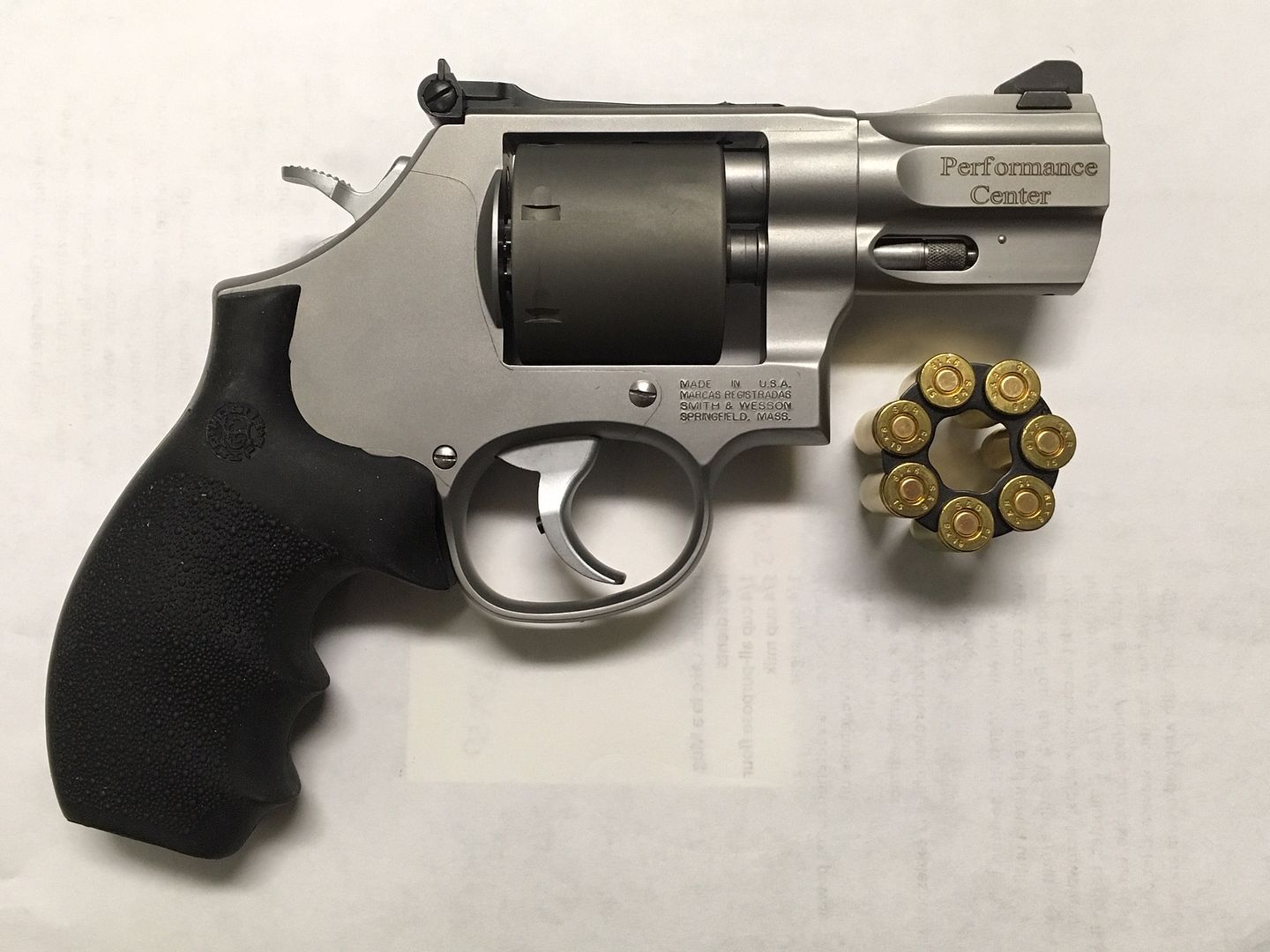 The trigger is a little stiffer/heavier than my old 681, but the 681 has a LOT of rounds through it. This will likely get better with use as well.
Tried a few moon clips from both TK Custom (the OEM mfr) and Ranch Products as well, and in this short of a test couldn't tell any difference. Only time will tell if one is better than the other. But even with no prior moon-clip experience it was faster to load than I am with speedloaders, and certainly easier picking up the empties afterward.